Sicilian cauliflower pilaf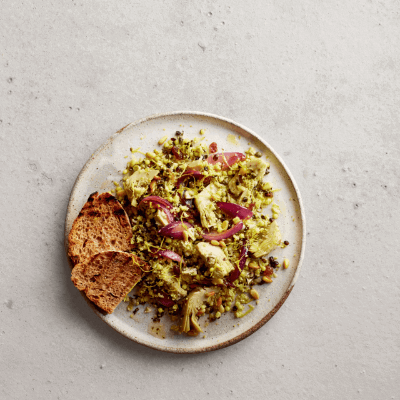 Ingredients
½ x 280g jar sliced artichoke hearts marinated in garlic & parsley, drained over a bowl

1 red onion, halved and thinly sliced

1 tbsp pine nut kernels

300g pouch cauliflower & kale couscous

15g Sultanas

Zest and 2 tbsp juice of 1 essential Lemon

2 tsp Cooks' Ingredients Nonpareille Capers, drained

Sourdough bread, to serve
Method
1. Spoon 1 tbsp of the oil from the artichokes into a medium saucepan. Fry the onion for 10 minutes over a medium-high heat until softened and caramelising. Tip in the pine nuts and cook for 1 minute until toasted.
2. Stir the cauliflower couscous and sultanas into the onions, then add 2 tbsp water and let the cauliflower warm through. Off the heat, stir in the lemon zest and juice, add the capers, then season to taste.
3. Tip into a serving bowl, fold in the artichokes and their garlic, then serve with the sourdough.