October Newsletter
Welcome to this months newsletter.
Just a short one this month as I will be sending another blog out this Saturday.
10 Mile Monthly Walk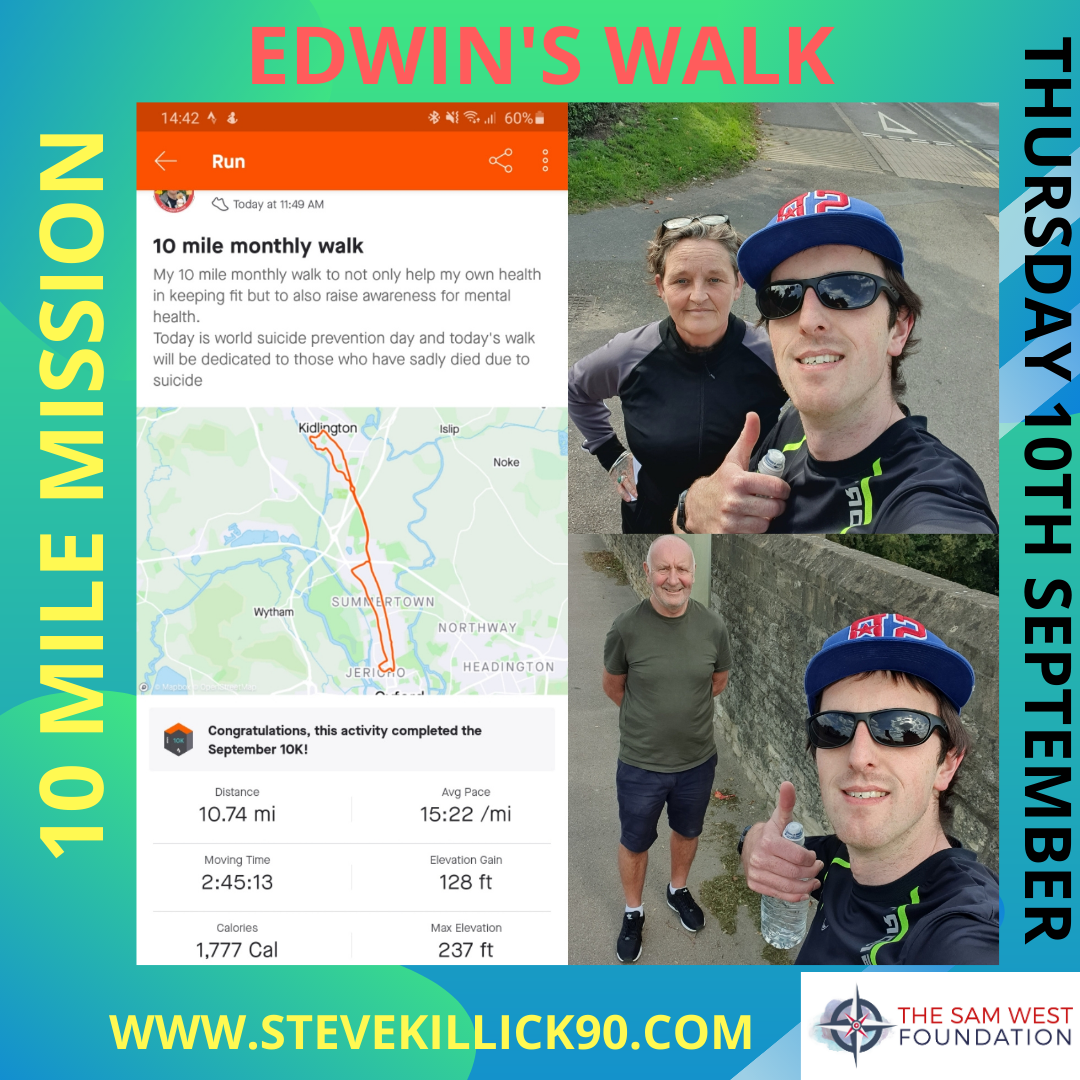 Each month I am setting myself a target of walking 10 miles in one go to raise money but mostly raise awareness for Mental Health charity.
Last months walk took place on Thursday 10th September and I would like to thank my colleague Vanessa and dad who got involved for it.
This years charity is The Sam West Foundation.
If you would like to donate then that would be amazing, click here to go to the Just giving page for more info.
My next walk will take place on Saturday 10th October which will be on World Mental Health Day.
Each month if you want to take part in my monthly walks then please do, just record it on your phone and then send me the screenshot of your walk.
Ben West Petition.
Ben West is Sam West's brother who I am doing the 10 mile monthly walks this year and as part of his campaigning he has set up a petition to Save our students. Make Mental Health First Aid a compulsory part of teacher training.
Ben has been working very hard over the last few months to really promote this and even visited Boris Johnson to share his mission.
Click here to sign the petition or I have added it to the menu tab which will take you directly to the page.
Paul Mcgregor- DEALING WITH GRIEF AND LOSS | 5 Things That Helped Me
For those dealing with grief and loss, here is 5 tips from my Mentor Paul giving his tips on how he deals with it.
World Suicide Prevention Day
Last month it was World Suicide Prevention Day but those conversations need to keep going.
For those who haven't had chance to check out my blog post for that day, click here to check it out.
I had a guest Emma Rayner giving her views on Suicide and her own experiences.
Again, thank you for getting involved.
World Mental Health Day
This Saturday will be a huge day for the whole world.
i won't go into to much detail now but make sure you use that day to start those conversations with your family, friends and even work colleagues.
Mental Health affects everyone, It doesn't discriminate.
For those reading this right now, I just want to say that YOU'RE NOT ALONE!
Also, remember to ask twice when speaking to someone:
Me: How are you?
Them: I'm fine..
Me: How are you really?
Them: Well actually....
Something so simple can have a massive impact.
Mindset by Dave
My good friend Dave has done a video on how to start a conversation with Mental Health so check it out.
Chris Hughes-Me, Me, My Brother & Our Balls
As I am a huge supporter of spreading the message about Cancer, I felt like this should be shared on here.
This is a subject which a lot of males don't talk about but it's such a serious topic.
If you want to watch the full episode it is on BBC Iplayer but it is on tonight on BBC1 at 9pm!!!
I watched it the other day and it hit me in the chest and it did make me feel really emotional
Important information
Next month I will be taking the website offline between the dates of Tuesday 17th November until Sunday 6th December.
I have a huge project coming up which I will be launching in December.
For me to properly set it up I will need to take it offline.
This will be exciting news so get all your friends and family to subscribe to my website via the homepage.


---
Thank you for taking the time for reading this months Newsletter.
IF YOU ARE REALLY STRUGGLING THEN PLEASE SEEK PROFESSIONAL HELP.
If you would like to keep updated then please subscribe homepage by putting your email address.
Please let me know below in the comments of any feedback of this months newsletter or what you would like to see in them in the future 👇👇👇