Hello and welcome to this months Newsletter
MOVEMBER

This year I am joining some colleagues in the Midcounties Cooperative for Movember.
Mental Health is so important and that is why I am so proud to be taking part.
Suicide is the biggest killer especially in young men like myself so that is why it is so important to talk about it.
Losing my Mum when I was 11 was the hardest thing I have ever had to do but feeling like I was alone shouldn't have been the case.
Even £1 will make a massive difference.
Each week on my fundraising page, I will be sharing my progress.
Can we count on your support?
Please click here to take you to the fundraising page
120 MILE MISSION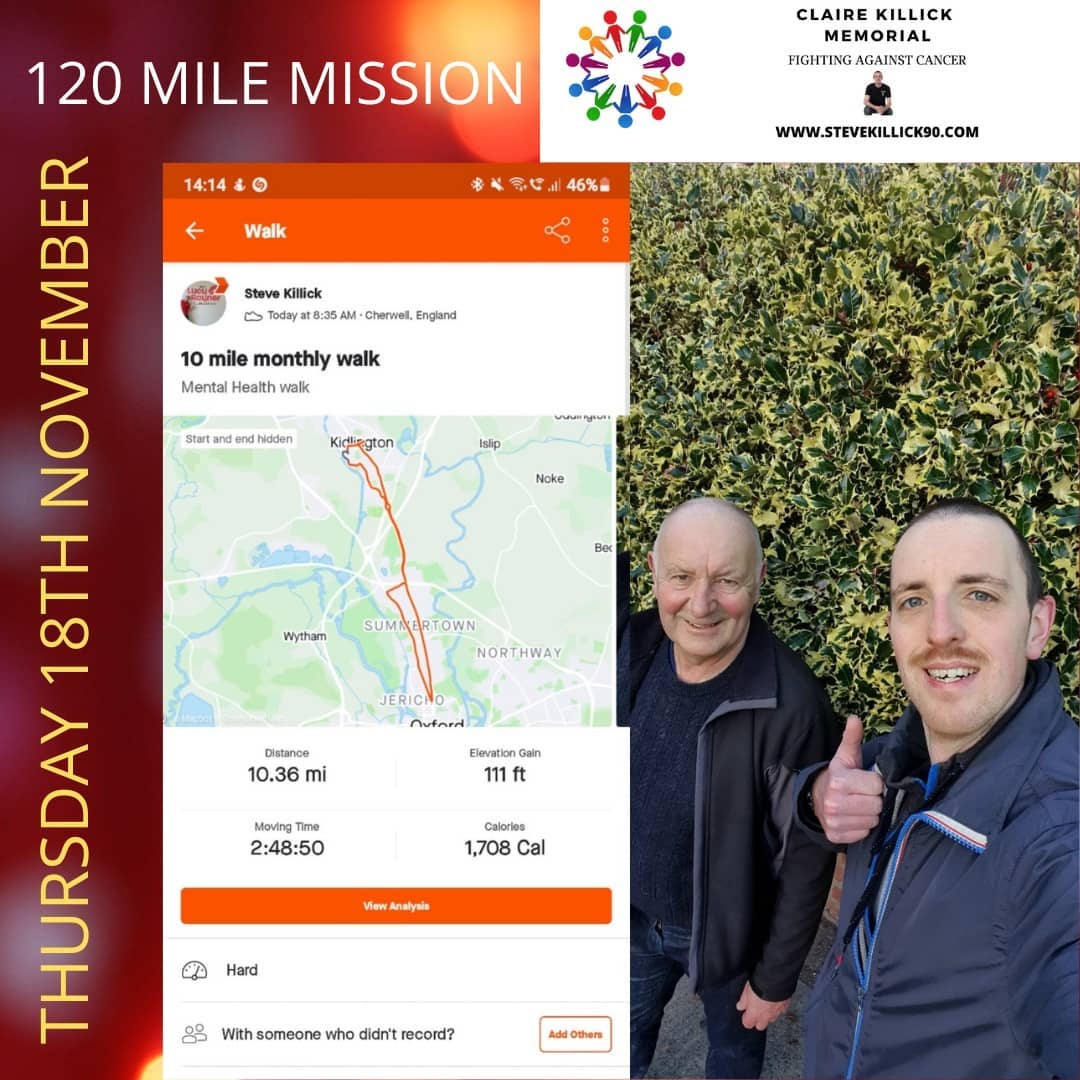 On Thursday 18th November I took part in this months 10 mile monthly walk as part of my 120 mile mission.
I just want to say thank you to my Dad for getting involved.
Hopefully won't be too long until I can start getting people involved with restrictions now easing.
If you would like to get involved virtually, then let me know.
My next date is Thursday 2nd December
As my fundraising page is currently offline at the moment, there is no donation page.
This will be live again from January
OXFORD HALF MARATHON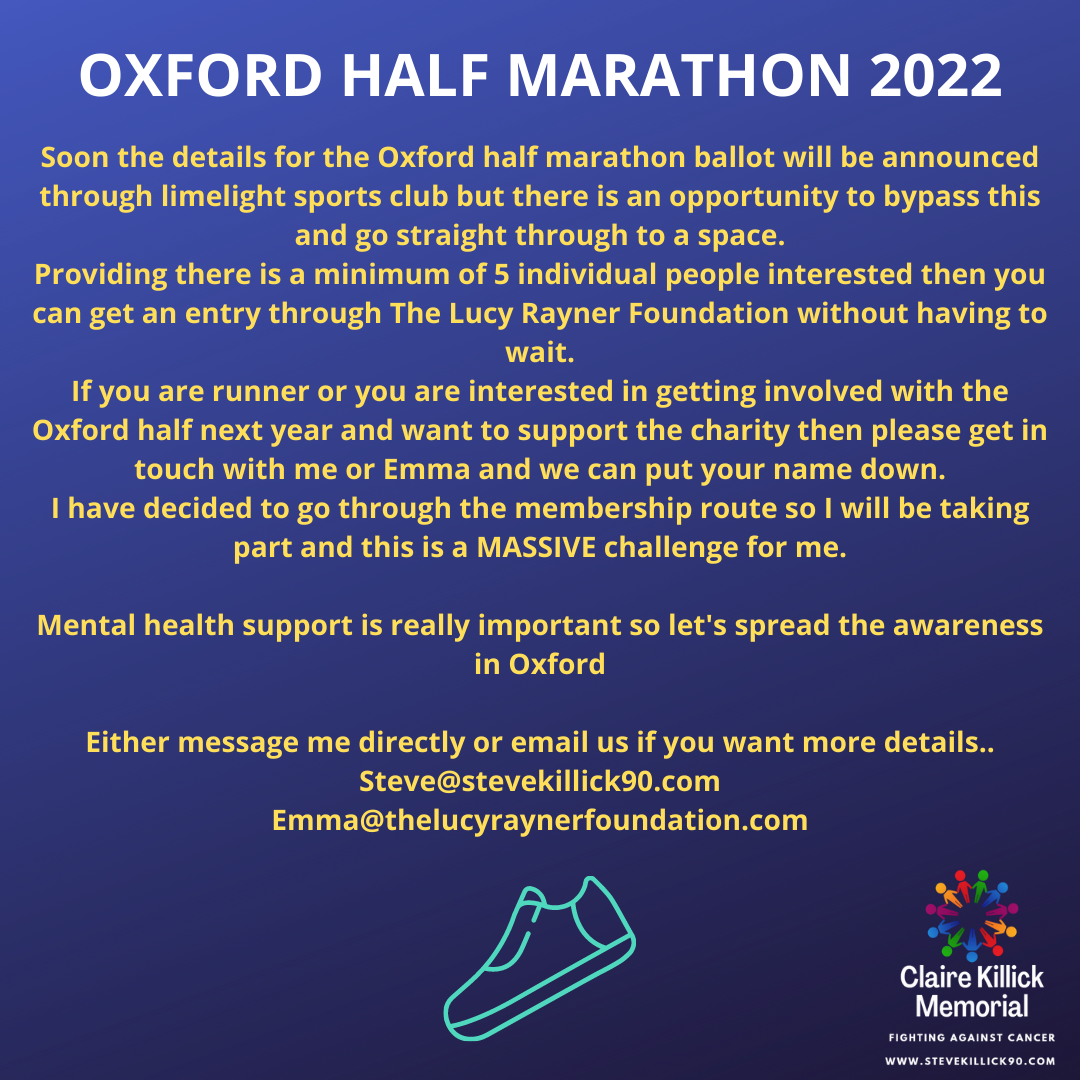 Next year I am doing the Oxford half marathon and this is going to be really out of my comfort zone.

For this event, I am teaming up with The Lucy Rayner Foundation to fundraise for them under this project of The Claire Killick Memorial.

If you are a runner or know someone who would be interested in getting involved then please get in touch with me or Emma to put your name down.

This also bypasses any ballots so you get automatic entry.

We need to have a minimum of 5 people to get spaces or if we get over 50 people then the charity can get official partnership with Lime Light sports club.

Entry is free however we do ask that you raise a minimum of £100 to cover the entry cost plus we will be designing a t-shirt for the event which is part of the amount.

The date is Sunday 16th October 2022
*Please note the event dates are subject to final approval from local stakeholders.
ONLINE STORE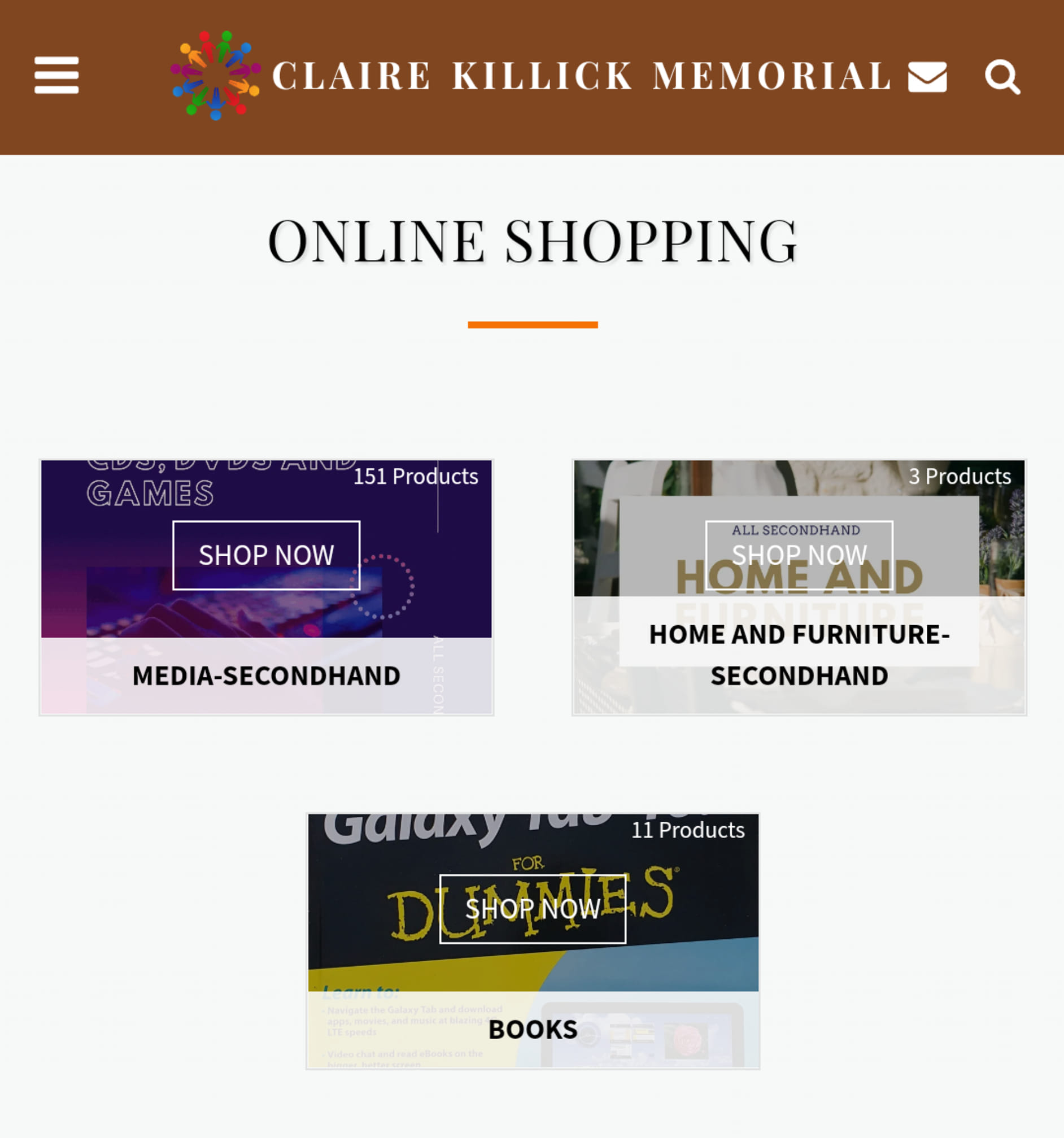 I have loads of items on my online store for sale so please check it out.

So many different items that could be good for a Christmas present for someone.

If there is anything you like and based in the Botley, Oxford, Summertown and kidlington area, I am happy to deliver so message me directly.
---
---
---
Thank you for taking the time for reading this months Newsletter.
IF YOU ARE REALLY STRUGGLING THEN PLEASE SEEK PROFESSIONAL HELP.
If you would like to keep updated then please subscribe homepage by putting your email address.Please let me know below in the comments of any feedback of this months newsletter or what you would like to see in them in the future 👇👇👇