Hello and welcome to this months Newsletter
Been a full on month so quite a bit to cover today.
120 Mile Mission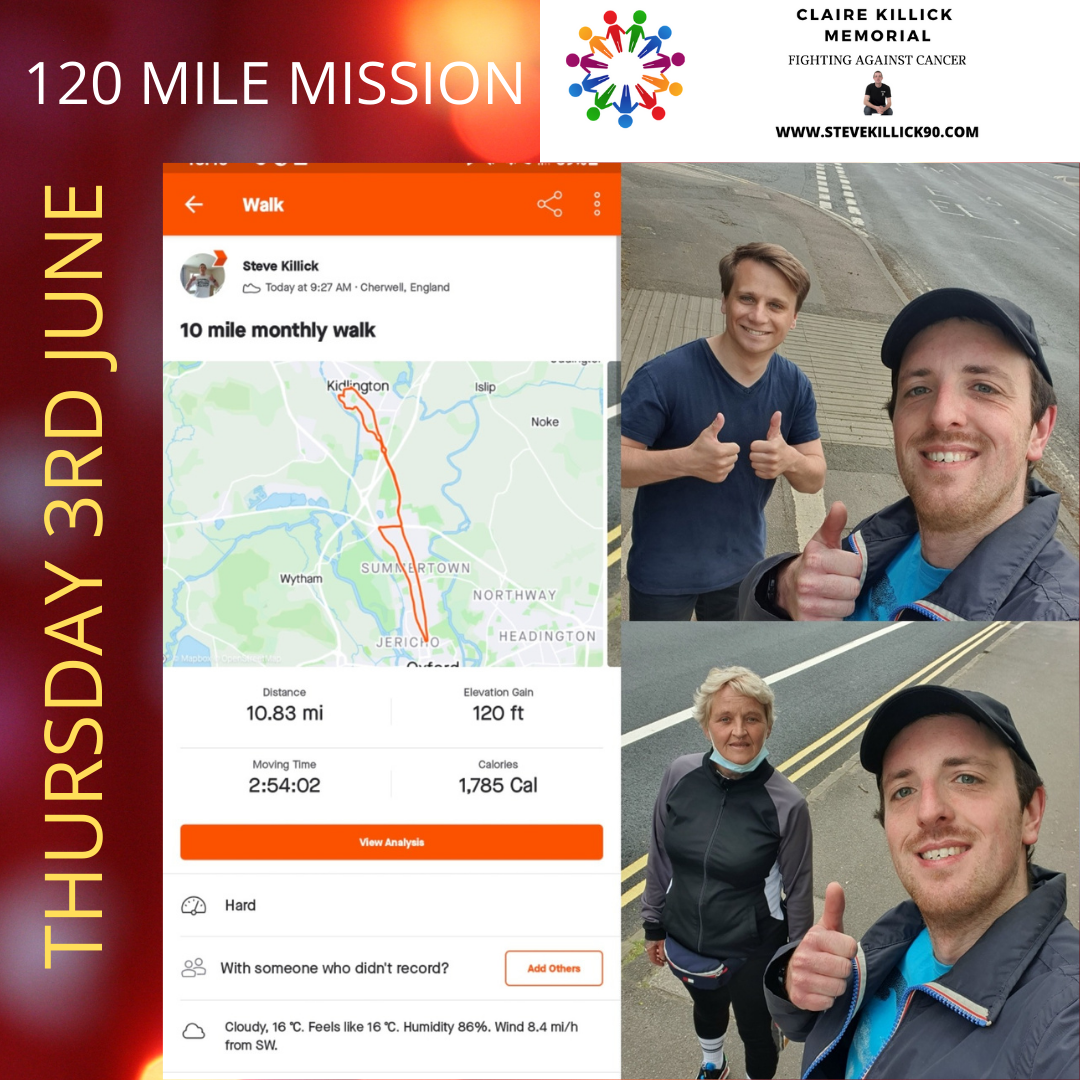 On Thursday 3rd June I took part in this months 10 mile monthly walk as part of my 120 mile mission.
I just want to say thank you to my Dad, Vanessa and Ben for getting involved.
Hopefully won't be too long until I can start getting people involved with this now restrictions are easing.
If you would like to get involved virtually, then let me know.
If anyone would like to donate then click here which will take you to my fundraising page.
My next date is undecided and will be shared once sorted.
FACEBOOK PAGE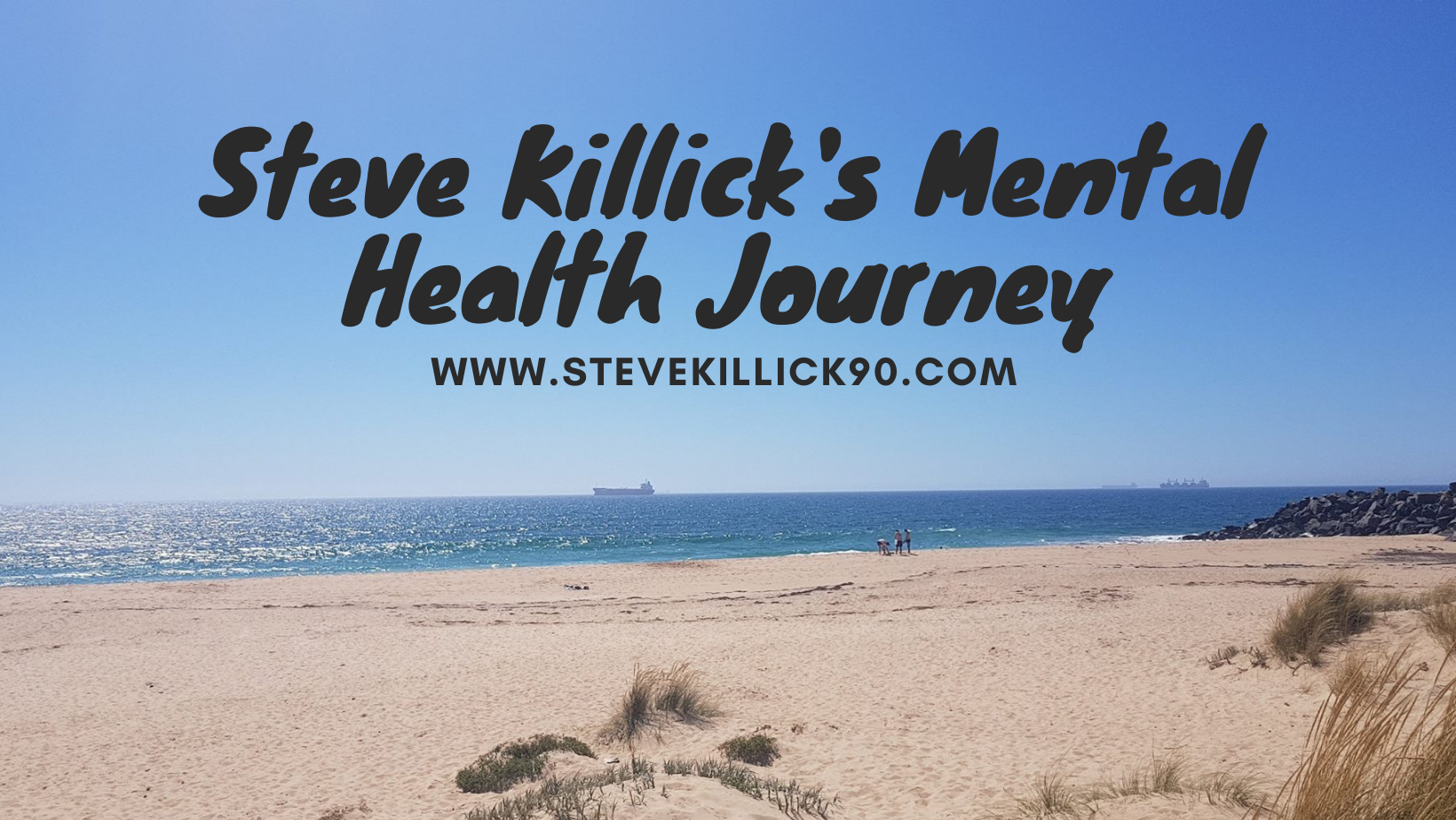 If you would like to follow then click the image above which will direct you to my new page or click here
18 YEAR OLD SELF TO NOW.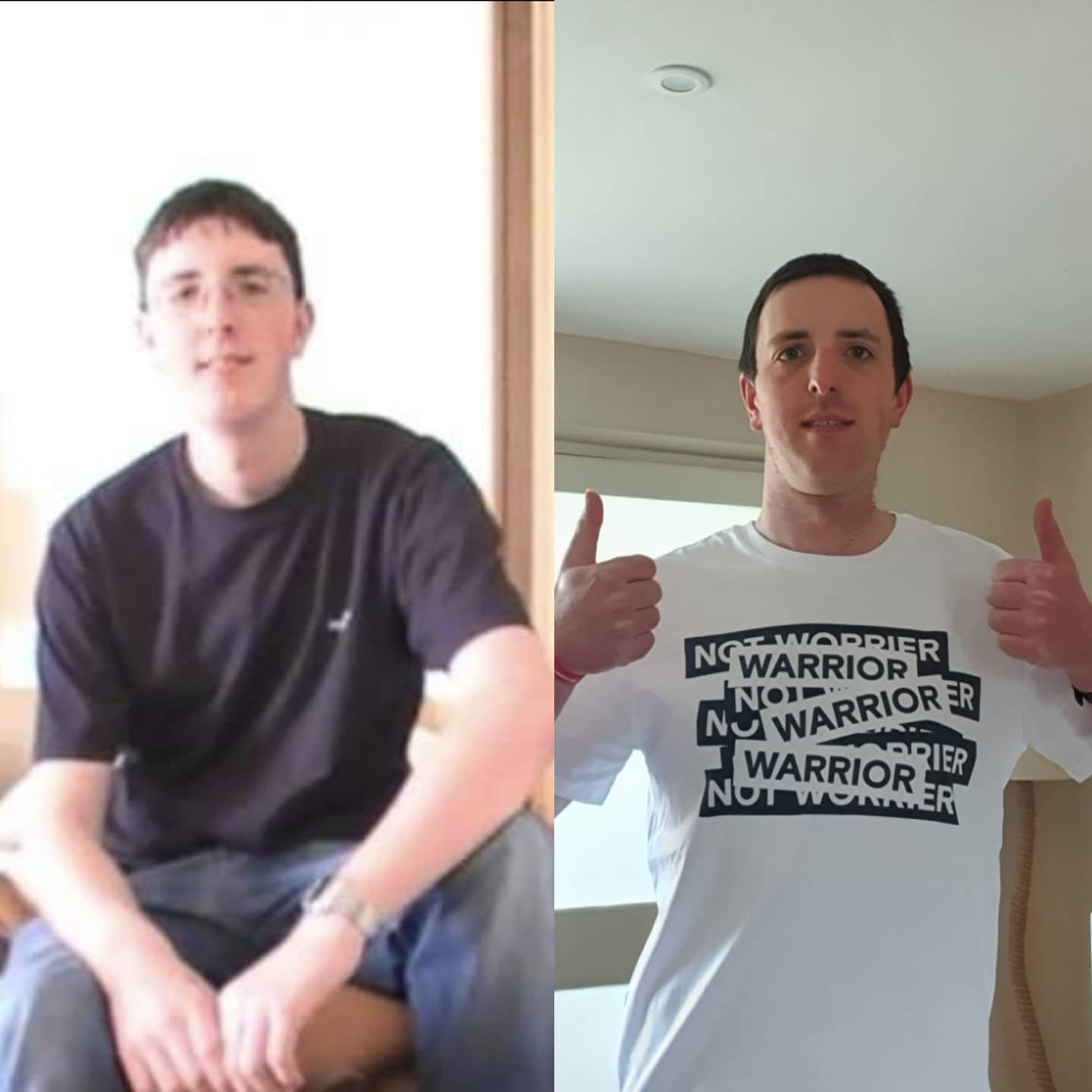 The image on the left was taken in Portugal for my 18th birthday in 2008 and the one on the right was a very recent one this year.

My 18 year old self knew nothing about mental health, I was really anxious about doing a lot of things even going on a bus on my own.

Back then I was dealing with a lot.

I was having to find out about how to deal with emotions all by myself.

Yes my dad was doing his bit and I'll always be grateful but he is an older generation who would keep things to his chest.

I didn't really go out with friends, I would go to work and back home to my room playing the PlayStation hiding away.

Over the last couple of years doing my campaign work, I hear so many people especially young say how they don't get the support they really need.

Suicide is the highest its ever been and is the biggest killer to young men today.

Okay over the last year especially we are talking alot more about mental health.

But where is the help..

My 18 year old self never got the help

I had to do it on my own!!!!

Most people are still having to do this today.

This is 13 years difference but still way behind.

The government are still relying on charities like The Lucy Rayner Foundation to pick up the pieces but they are going to be over stretched and going to be in a position where they will have to turn people away.

Yes we have a covid pandemic on our hands and yes that needs to be dealt with but so does mental health support.

Being told you are put on a waiting list for several months is shocking.

This is why @youngmindsuk have set up a pledge to put local mental health hubs in local areas to help young people.

I never had this and who knows where I would be if I was able to learn my emotions earlier on.

Losing my mum when I was 11 was so hard to deal with and I just had to get on with life every day.

I WAS 11

LET THAT SINK IN

People say mental health isn't for young people but you are wrong.

More and more I hear of so many young people under the age of 10 struggling with their emotions but there's never any support.

We need to do more
YOUNGMINDS
The reason why I wanted to share that bit above to you, leads me on to this.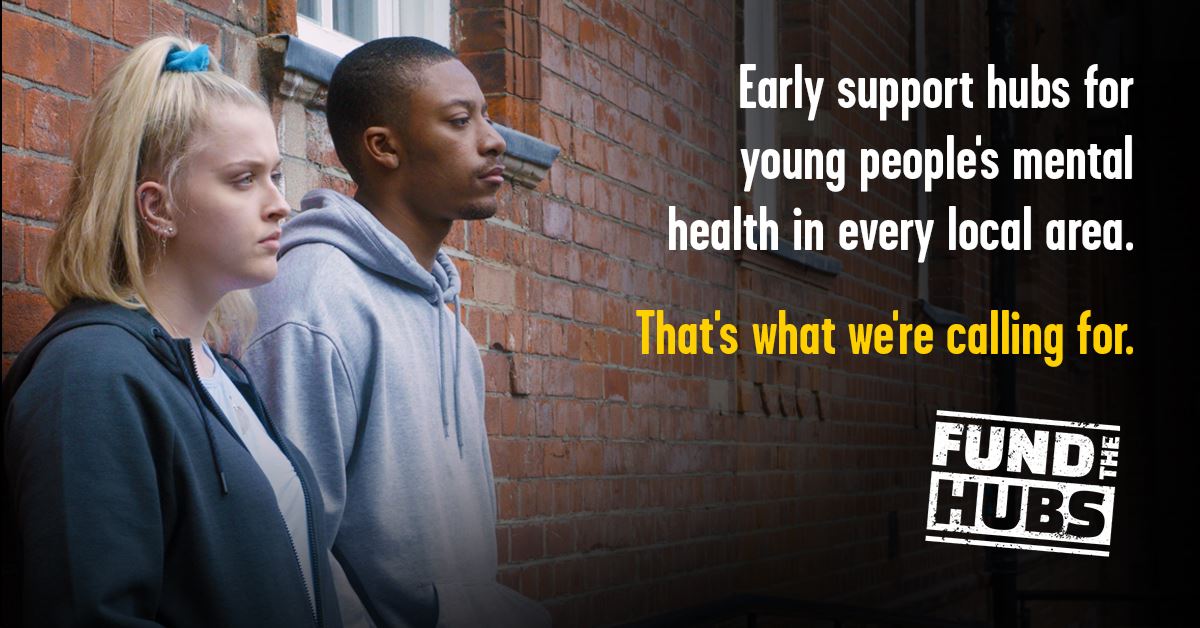 Recently Young Minds Mental Health Charity have launched the campaign, FIND THE HUBS.
I am 100% backing this and I want you too as well.
It is so easy to do and this will help so many young people with their Mental Health.
**copied from Youngminds Website**
So what is an early support hub?
Early support hubs offer drop-in support on a self-referral basis for anyone up to age 25 struggling with their mental health and wellbeing.Because they are easy to access, they take away some of the barriers we hear that young people face when they first reach out and it means that young people can go to them without needing an appointment first.They can be flexible to their location and what is already there, but generally speaking they will be:
physical, dedicated spaces in local areas specifically for young people up to age 25
created for young people and their needs
they bring together information and advice for young people on work, employment and sexual health alongside support for mental health.
We want a network of them across the country so as many young people as possible can access them. Early support hubs already exist in some areas but national, long-term funding would secure their future and ensure that young people in most areas will be able to access them, in the same way as they do in other countries. There are similar programmes already established in Australia, Denmark and Ireland.
What difference will early support hubs make?
Early support hubs have been shown to be incredibly beneficial for young people, both internationally and in the UK. We hope that a network of them will go some way to ensuring that young people can access early support.However, they are just one part of the picture. Firstly the investment in early support hubs is in addition and separate from youth services, which also need funding. There must also be more investment in specialist NHS mental health services, as well as better support in schools.These are all the things that we have been calling for. Early support hubs fit within the picture of what young people's mental health support should look like in order to ensure that everyone can get support when they need it, no matter what.
IF YOU WANT TO GET BEHIND THIS CAMPAIGN THEN VISIT HERE TO FIND OUT MORE AND MOST IMPORTANTLY SEND THAT EMAIL TO YOUR LOCAL MP.
ONLINE STORE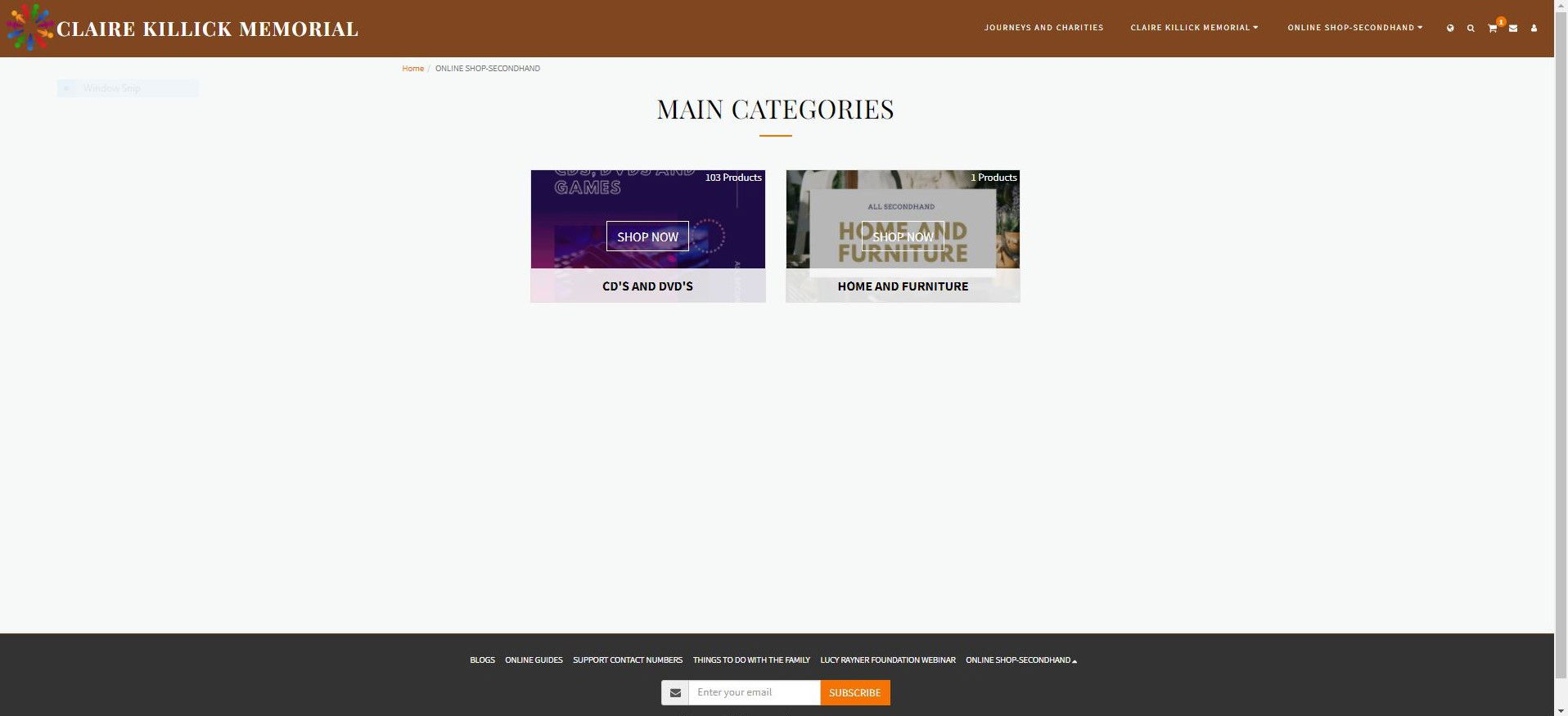 Recently I have made a decision to have a good clear out of my house so I have uploaded the items on Ebay due to the traffic flow but linked it up on my website.
I have so much to clear and it is constantly updating so keep checking.
I have spent some money initially on getting all the equipment but once I start making profit then I will eventually donate a certain % of every order to the Claire Killick Memorial Fundraise.
If you live locally in Oxford then I am happy to deliver but if that is the case then get in touch with me directly before ordering at steve@stevekillick90.com.
THE LUCY RAYNER FOUNDATION
Last week The Lucy Rayner Foundation were on Meridian FM talking about their new single in partnership with Rob Wells and here is the clip.
Hearing the song brought back so many memories as the original song was what got me through my tough times.
"HOLD ON"
To listen and purchase the song, visit this website for more information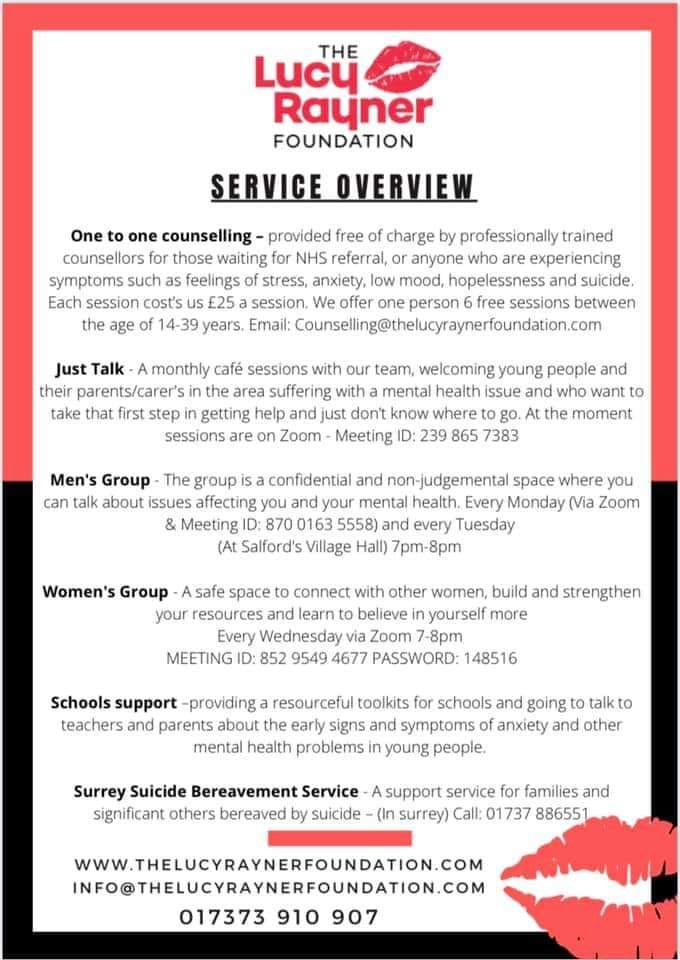 I wanted to reshare this image of the services that the Mental Health charity offer.
Don't ever feel like you are alone
---
---
Thank you for taking the time for reading this months Newsletter.
IF YOU ARE REALLY STRUGGLING THEN PLEASE SEEK PROFESSIONAL HELP.
If you would like to keep updated then please subscribe homepage by putting your email address.Please let me know below in the comments of any feedback of this months newsletter or what you would like to see in them in the future 👇👇👇