Face coverings in a public place.
Today as part of the new government guidelines, it is now mandatory to wear a face covering in shops, supermarkets, shopping centres and enclosed transport hubs.
This is a very tough subject for me as so many people will have very mixed emotions over this.
For me personally I don't like wearing one as they feel uncomfortable but I fully support and understand the reasons why so it is my duty to wear one.
Sometimes in life we have to do things that we don't like but as we are still in a pandemic where other peoples lives are in danger then it is my responsibility to wear one when needed.
Having said that, there will be people out there who due to personal health reasons means they can't wear one and that is okay too.
Over the last week, my anxiety has been quite bad over this as I don't know what to expect. I am such a big over thinker and this has really tested me, however talking about it and trying to rest it helping.
Here is some info below, that I have got from the GOV website but always keep checking their website to make sure your up to date as things can change.
Wearing a face covering will not be made mandatory in venues such as:
hairdressers and close-contact services
eat-in restaurants, cafes and pubs. Face coverings will be required in cafes or take-away restaurants that do not provide table service, other than in designated seating areas
entertainment venues, including cinemas, concert halls and theatres
visitor attractions (such as heritage sites or museums)
gyms and leisure centres
dentists or opticians. But NHS guidance states that face coverings should be worn in hospitals
Those with the following circumstances are also exempt from wearing a face covering, regardless of the venue:
children under the age of 11
those with disabilities or the following health conditions:

breathing difficulties and other respiratory conditions
conditions affecting their dexterity, meaning they are not able to put on a face covering
mental health conditions such as anxiety or panic disorders
other non-visible disabilities such as autism
cognitive impairments, including dementia, who may not understand or remember the need to wear a face covering
visual impairments, with a restricted field of vision, particularly if any residual vision is at the lower edge of the normal field of view
impairments which would make it difficult to put on or take off a face covering safely, accurately, consistently or without pain
This list of exemptions is not exhaustive and extends to anyone with justifiable reason for not wearing one on the grounds of health or disability.
You do not need to wear a face covering if you have a legitimate reason not to. This includes (but is not limited to):
young children under the age of 11 (Public Health England do not recommended face coverings for children under the age of 3 for health and safety reasons)
not being able to put on, wear or remove a face covering because of a physical or mental illness or impairment, or disability
if putting on, wearing or removing a face covering will cause you severe distress
if you are travelling with or providing assistance to someone who relies on lip reading to communicate
to avoid harm or injury, or the risk of harm or injury, to yourself or others
to avoid injury, or to escape a risk of harm, and you do not have a face covering with you
to eat or drink if reasonably necessary
in order to take medication
if a police officer or other official requests you remove your face covering
There are also scenarios when you are permitted to remove a face covering when asked:
if asked to do so in a bank, building society, or post office for identification
if asked to do so by shop staff for identification, the purpose of assessing health recommendations, such as a pharmacist, or for identification purposes including when buying age-restricted products such as alcohol
if speaking with people who rely on lip reading, facial expressions and clear sound. Some may ask you, either verbally or in writing, to remove a covering to help with communication
It is not compulsory for shop or supermarket staff to wear face coverings although we strongly recommend that employers consider their use where appropriate and where other mitigations are not in place.
..............
Here is a cheeky photo of me with my mask.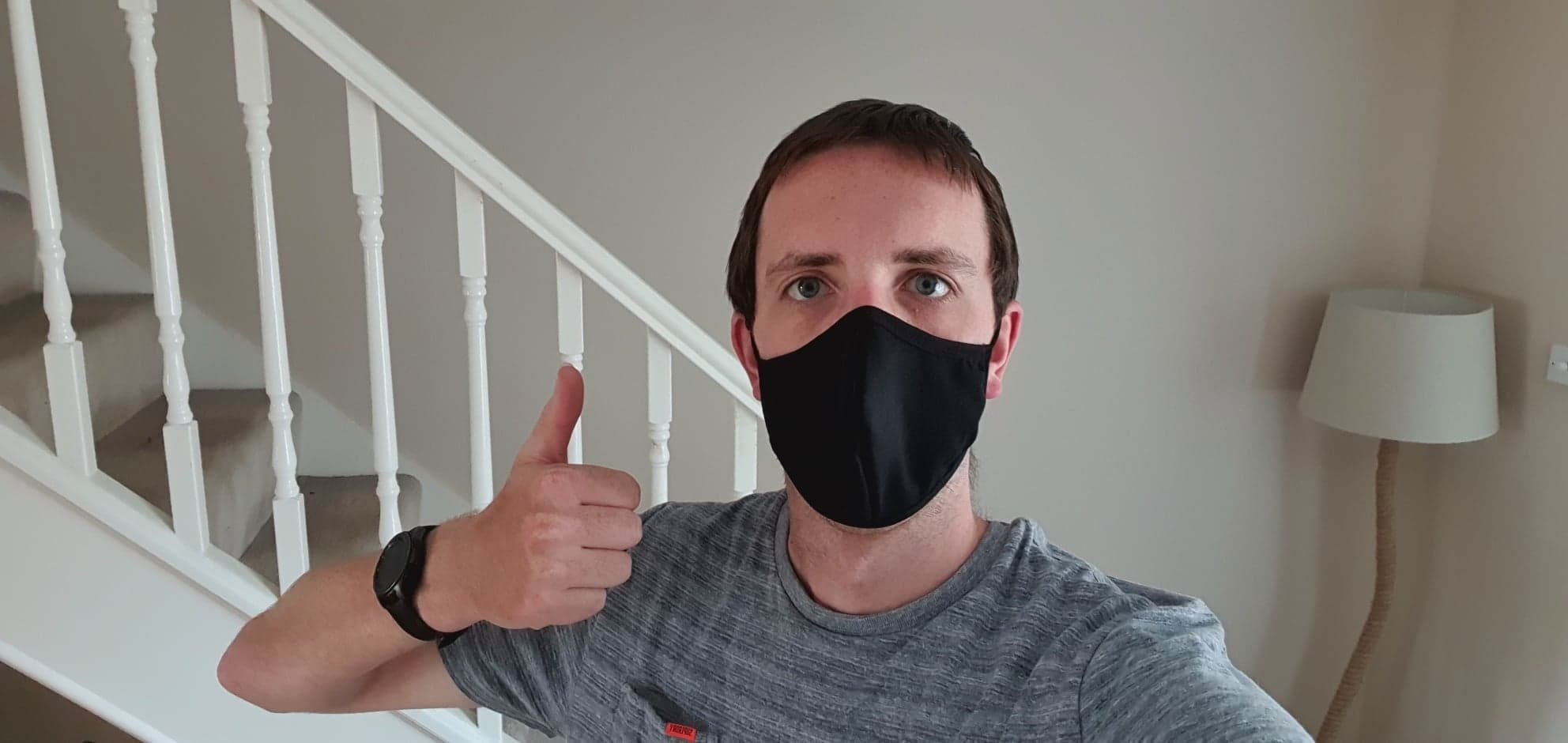 Here is a link to the MIND charity website for those who need more help and support with this.
As much as it will be hard for people, just play your part and remember to ALWAYS stay safe.
---
Stay Alert
Control The Virus
Save Lives