2020 has come to an end now and what a year it has been.
For me personally it has been a total rollercoaster from start to finish but even though the circumstances have been bad, it actually did me a favour and made me revaluate my life again.
Here is the journey I took in 2020-The images aren't in date order so some are taken Pre covid and when covid was in play then social distancing was adhered to.
Those are just a small selection of my highlights last year but when the pandemic happened it really made me take a step back and look at my own life.
120 Mile Mission
At the end of 2019 I decided to set up the 10 mile monthly walks so it made me keep active at least once a month but then I decided to add the Sam West Foundation Charity so it made me do it.
I finally completed this in December and I am so proud of what I had done.
It not only got me out the house but it got me more active with fitness.
Just after the pandemic hit us in Oxford, I brought a smart watch from my colleague at work and since then it made us do loads of fitness challenges in the summer, it turned me into a health freak and 9then I decided to cycle to work every day which has been amazing.
I loved it that much I decided to carry on with it this year but under my own project.
I raised an amazing £200 but now I am running the Claire Killick Memorial which will be supporting 3 charities and all fundraising I do from now on will go under that.
Family Tree
In the summer when we had to be at home and couldn't go out, I decided to get back on my family tree again.
So after a conversation with my cousin Emma, we decided to get back onto it again properly with me, my dad and my cousin taking our DNA test through Ancestry to not only confirm that we were related but also help with the investigating as I don't have much information on my Mums side.
Since the results come back we haven't been as active on the tree as we were before but still checking in every week keeping an eye on the matches.
When my results came through I felt like a jigsaw puzzle that was in a billion pieces not knowing my background which did affect my Mental Health slightly but then when their results came through I felt so much better.
It is really hard work doing the family tree as your effectively a detective looking into the family history but so far I have had 2 surprises from my Mums side where 2 of my friends who I have known for years are actually a distant cousin.
This will be continued this year and hope to find so much more information out about my families past.
New Job
Towards the end of last year I was faced with a decision that I had to move on from the store I worked at in Walton Street but after a lot of thinking and discussions, I made the move to change store within my company to move onto better things.
I had been in the previous store for 4 years and it was my time to move on and this was such an amazing opportunity that I couldn't refuse so over the last 4 weeks I have been working in the Botley Coop with my old manager again being back in Supermarket.
There is going to be a lot of things that I will have to learn and face challenges which I haven't before but the best way to grow is to live outside the comfort zone, it will make me a stronger man out of it.
My Mental Health work
Over the last year I have been working flat out with my campaign work trying to increase my network but due to covid, it stopped me from actually getting out there talking to people.
With that in mind, I then committed myself doing monthly newsletters for people just keeping everyone updated with what is happening and its so far been a positive success.
For me this is only the start and with my huge project (The Claire Killick Memorial) now active, I will hopefully be able to connect to more people through this.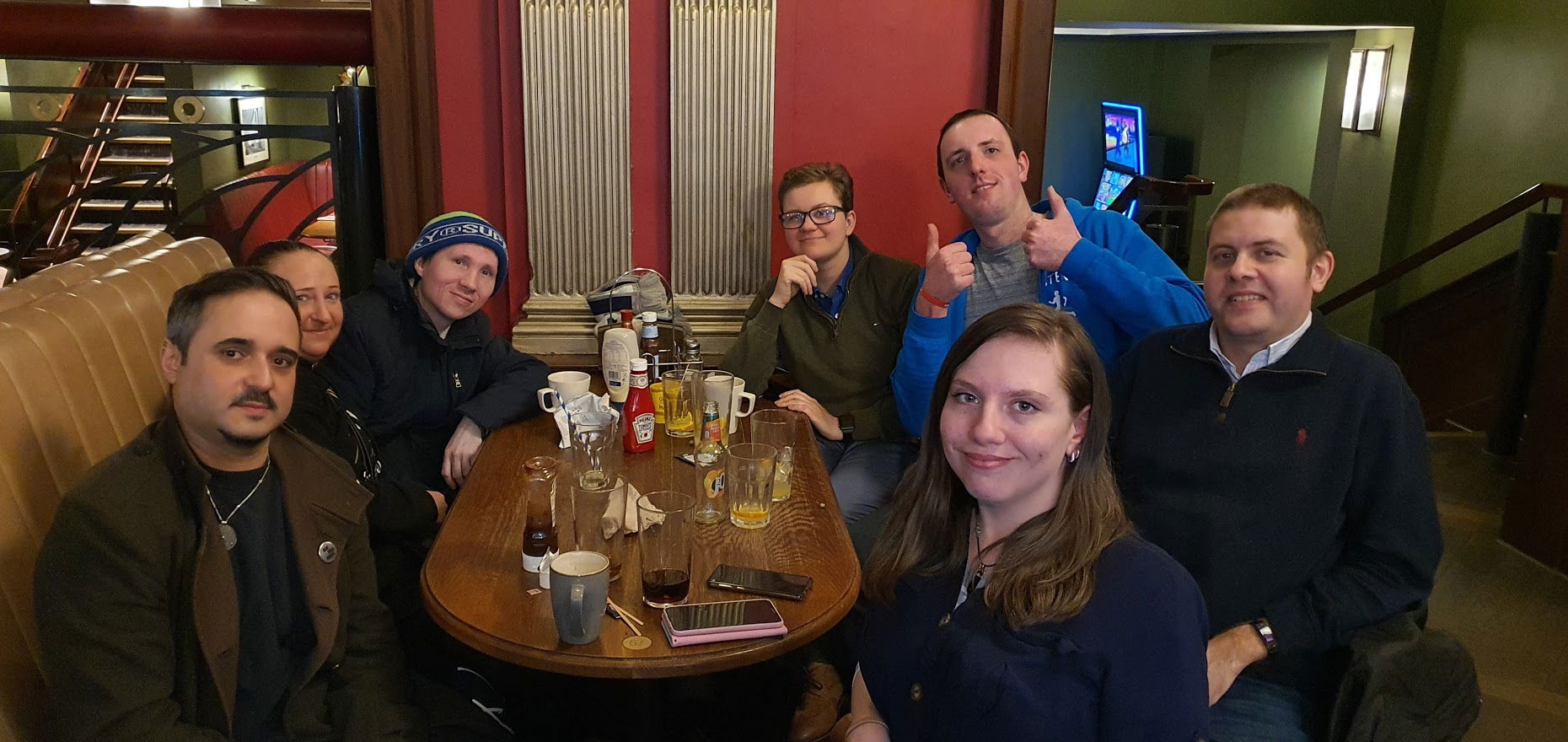 In February I managed to see my Mental Health family in London just before lockdown which was so lucky as they are a massive part of my life and they are a huge support with everything I do.
Hopefully will be able to meet up soon.
My 30th Birthday
In May during full lockdown it was my 30th birthday and to be honest it was so weird,
I had to be on my own but then had a socially distanced visit from family sat on chairs outside the front catching up.
When all this is over and we can get some normality then I will have a post covid 30th birthday to make up for it.
My coming out journey
For those who watched the video or for those who didn't, at the very end of the video I made a huge announcement that has been something I have been putting off for years.
At the start of December I finally had the courage to come out to my Dad and Lisa as being GAY.
This is a subject that I have kept very hidden for years though I think a lot of people I am with, worked it out.
This is something that has affected my Mental Health over the years coming to terms with this and how am I going to tell people but with 2020 being the year it has been, I thought why not.
If you are reading this and your hiding your sexuality then only come out when you are ready.
It took me years to finally come out but I did the whole thing on my terms when I was on one of my walks with my Dad out in the open fresh air.
For me personally I never see the point about coming out to people, we should be able to accept everyone no matter what but unfortunately due to the stigma and the hate of the LGBTQ community by some people, there is that fear of judgement and being disowned by the family for this.
When I came out, my Dad and Lisa were so accepting and it was so normal that we just get on with life but knowing that they know is just a huge weight lifted from me.
To summarise
2020 hasn't been easy for me but it hasn't been easy for everyone in this world and for a lot of people it had a really negative affect on their lives but if there is one thing this whole pandemic has taught me is not to take anything for granted and always check in with your family and friends regularly.
I message my support network more now than I did before as I used 'being busy' as an excuse not to message them but it makes you really think what is important in life.
As I said earlier, for me 2020 had a massive positive impact of my life apart from missing concerts and theatres so much but when this is all over I will be back to them.
I also want to take this moment to remember who we have lost through out the year too.
The main person who had a massive impact on me last year was losing Andy Dale in January and I will never forget him as he was a massive part of my life growing up since I was born.
I love the Dale family so much and you all mean the world to me, I will always be here for you when ever you need anyone to chat to but that also goes to everyone else to.
If you are feeling like your having a bad day or your really struggling then please reach out.
I might not have the answers but having that person who listens to your problems really helps.
I am only a message away for anyone.
This year in 2021 I have so much planned and its going to be an amazing year no matter what gets thrown at us.
---
Thank you for taking the time for reading this blog post.
IF YOU ARE REALLY STRUGGLING THEN PLEASE SEEK PROFESSIONAL HELP.
If you would like to keep updated then please subscribe homepage by putting your email address.
And Happy New Year